Infrared thermometers are ideal for measuring temperatures from a distance. They provide accurate temperatures without having to touch the object you're measuring. An excellent infrared thermometer will let you stand at a safe distance and still give you a quick and accurate reading of the object's temperature.
Table of Contents
How Infrared Thermometers Work
Detailed List Of Top 4 Best Infrared Thermometer in Nigeria Reviews
4 Ways To Get Better Measurement With Infrared Thermometer
Frequently Asked Questions
You can use an infrared thermometer to measure objects that are:
Fragile (example computer circuitry)
Dangerous (example gears, molten metal)
Impenetrable (example frozen foods)
Susceptible to contamination (for example foods, saline solution)
Moving (example conveyor belt, living organisms)
Items that are in a distance that the hand cannot reach (for example, air conditioning ducts, eardrums).
To make sure you are working with the best possible kit, we put together a comprehensive review of some of the best-infrared thermometers available in the Nigerian market.
How Infrared Thermometers Work
An Infrared thermometer measures both infrared radiation and the emissivity value of a surface. The Infrared thermometer has a lens that focuses the infrared rays and tunnels them through the thermometer to a detector known as a thermopile. Then, hey presto the thermopile converts the incoming Infrared radiation into an electrical signal that is then displayed as units of temperature! While the process sounds (and is) complicated, it all happens in a matter of seconds.
An important factor when using an Infrared thermometer is the distance-to-spot ratio. This ratio is the size of the area being measured against the distance of the thermometer from the sample. In simple terms, the area being measured becomes larger as the distance increases. Inversely, the area being measured becomes smaller as the distance decreases. Knowing your distance-to-spot ratio is important. It will help you ensure accuracy by helping you avoid taking measurements from outside of the desired area.
How to get the most out of your infrared thermometer in the kitchen
Just because infrared thermometers only measure surface temperature, doesn't mean they aren't super handy in the kitchen. The ability to get an instantaneous read on the heat of cooking food, surfaces and the temperature of equipment like grills or pizza ovens is a hugely important part of preparing your food exactly how you want it.
Here are few ways to use your infrared thermometer in the kitchen:
Measure the temperature of cooking oil
Measure temperature of liquids you don't want to get too hot like milk and melted butter
Checking the temperature of a pizza stone or barbecue grates
Checking the temperature of a hot pan.
Detailed List Of Top 4 Best Infrared Thermometer in Nigeria Reviews
Non-Contact Infrared Thermometer BBLove
Features of Non-Contact Infrared Thermometer BBLove
High temperature warning
Fahrenheit or Celsius measurements
Powered by two AAA batteries (not included)
60-second automatic shutoff
2. Infrared Thermometer X6 Surezen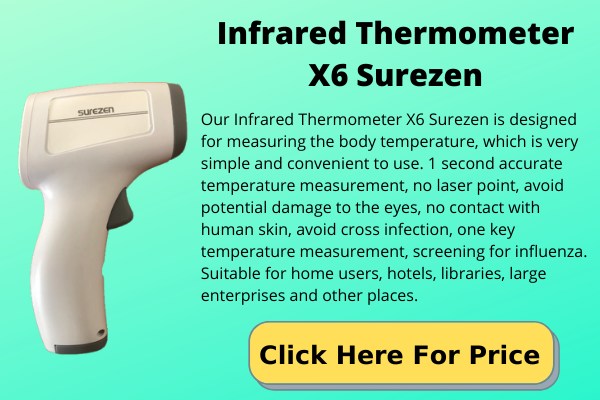 Features of Infrared Thermometer X6 Surezen
One touch digital infrared thermometer
This product obtains body temperature by measuring the forehead temperature of the human body . It gives accurate body temperature when placed at ear.
It is an essential product for every home, office , factory etc
One touch operation, easy to read temperature on the LCD
Celsius / Fahrenheit both readings available
3. Non-contact Infrared Thermometer FD-200AT Secure
Infrared thermometers facilitate measurement of moving parts. Instead of judging whether it is safe to work on a machine, the temperature of machines can be detected while they're in operation. There is no risk of contamination and no mechanical effect on the surface of the object. Temperature measurement without process interruption might be important in some applications and IR thermometers are a better fit than conventional thermometers in such cases. However, keep in mind that IR thermometers measure only the surface temperature.Non-contact infrared thermometer is a quick and non-invasive method to measure body temperature, not requiring sterilisation or disposables. It is a candidate for temperature recording in children. Non-contact infrared thermometer shows a good performance, has the advantage of measuring body temperature in two seconds and is comfortable for children.
4. Infrared Thermometer TP500 CONTEC
Features of Infrared Thermometer TP500 CONTEC
1.Precision measurement:(using imported infrared detection system).
2.Rapid temperature measurement: measurement time ≤ 1 second.
3.Easy to use: a key measurement, easy to operate.
4.Non-contact: measuring human forehead without touching human skin.
5.Service life: install 2 AA batteries, which can be used more than 100,000 times, and the service life of the product is more than 3 million times.
6.Measurement distance: it can be adjusted within 5~15CM without fixed measurement distance.
7.Large screen display: big screen LCD display, white backlight, any light can be clearly displayed.
8.Temperature alarm: set the alarm temperature freely.
9.Storage data: 32 measurement data are stored for analysis and comparison.
4 Ways To Get Better Measurement With Infrared Thermometer
1. Check the measured diameter of your infrared Thermometer
The diameter of the infrared thermometer may influence the final measurement of the target object, especially if it comes into contact with its surface, or it affects the mere width of the laser beam. Try using as thin a measured diameter as possible to bring the target area under an accurate focus.
2. Get to know how the laser works
Does a lack of knowledge about how to use an infrared Thermometer with laser point affect the final temperature measurement? Well, yes! You should do some basic temperature laser gun training before you get to the real deal. Clean up the Thermometer's essential parts, starting from the lens. Also, ensure that the area between the lens and the target isn't dust-infested or foggy. The laser beam may deflect when it goes through such a pathway.
3. Be wary when measuring the temperature of shiny metal objects
Infrared can deliver accurate readings from all surfaces bar for the shiny ones. It would help if you also were careful of glossy edges too. Reflection of infrared rays naturally tampers with the final measurement, thus the need to put paper tapes around the target area of the object or by directly applying original paint.
4. Be wary of the user environment of your Thermometer
When measuring the temperature of an object using an infrared thermometer, you must consider the surrounding environment. Remember, any particles in the air will undoubtedly hamper the desired outcome. What's more, your device may suffer from any adjacent electromagnetic waves that will deflect the laser rays. For near-perfect measurement, set your target object and infrared Thermometer in a dust-free, enclosed space free from any moisture or smoke. Allow some time for the Thermometer to come to the temperature of its surroundings
How to check the accuracy of infrared Thermometer boils down to how well it'll adjust to local temperature? It would help if you allowed it sometime (at least 20 minutes) to still be pretty with the live setting. You don't want its temperature shocked.
Frequently Asked Questions
Can infrared thermometers see through glass and plexiglass?
Glass, plexiglass and other visually transparent materials are usually "opaque" to infrared light. If you try to measure a temperature of something on the other side of a window, for example, the readout will tell you the temperature of the glass, even if the thermometer's laser pointer passes through it.
Can I use an industrial infrared thermometer to measure body temperature?
Most industrial IR thermometers are not well-suited to measuring body temperature. Many industrial IR thermometers produce measurements that are accurate to within three or four degrees Fahrenheit, which is acceptable for industrial applications but would not be helpful for determining whether or not a person has a fever. Also, the temperature of a person's forehead is somewhat cooler than their internal body temperature, and clinical IR thermometers are designed to deliver readouts that compensate for this difference, while industrial IR thermometers are not. Check manufacturer's specifications to determine whether an instrument can be used to measure body temperature.
What's the best way to clean an IR thermometer?
To be accurate, IR thermometers must be kept clean. To clean, use a soft cloth or cotton swab with water or medical grade rubbing alcohol and carefully wipe first the lens and then the body of the thermometer. Allow the lens to dry fully before using the thermometer. Never use soap or chemicals and never submerge any part of the thermometer in water. Industrial IR thermometers should be cleaned when dirty, or roughly every six months according to some manufacturers. Consult the instructions for your device before cleaning. Clinical IR thermometers used for temperature screening should be cleaned and disinfected according to manufacturer's instructions and facility policies, according to the Centers for Disease Control and Prevention.
How close do I need to be to an object to measure its temperature accurately with an IR thermometer?
There's a quick way to estimate the maximum distance from which you can reliably measure an object of a certain size with an infrared thermometer: Multiply the size of the object by the first number in the distance-to-spot ratio.
When it comes to selecting the best infrared thermometer in Nigeria, make sure you are getting one that will fit all your needs.
Contact GZ Industrial Supplies today to purchase The Best Infrared Thermometers in Nigeria.